This wiki contains unmarked spoilers. Read with caution.
Welcome!
About
Welcome to the Yuri!!! on Ice Wiki!
This wiki is about Yuri!!! on Ice (ユーリ!!! on ICE). Feel free to help in improving the wiki by editing and contributing new articles or pictures. We are currently editing 244 articles since April 17, 2016. Please follow the regulations while editing. Feel free to contact any admin if there are any issues.
Characters
Preview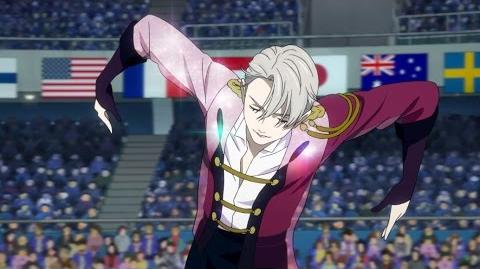 Latest Blogs
External Links
Yuri!!! on Ice Website in Japanese
Yuri!!! on Ice Website in English
ICE ADOLESCENCE Website in Japanese
ICE ADOLESCENCE Website in English
Yuri!!! on Ice Twitter in Japanese
Yuri!!! on Ice Facebook in Japanese
Yuri!!! on Ice Instagram in Japanese

Affiliations
Feel free to contact Abetakaya for affiliation requests.
Synopsis
Yuri!!! on Ice revolves around Yuuri Katsuki, who carried all of Japan's hopes on his shoulders to win at the Grand Prix Final figure skating competition; however, he suffers a crushing defeat. He returns home to Kyushu and half feels like he wants to retire and half feels like he wants to continue figure skating. With those mixed feelings swirling inside him, he confines himself inside his parents' house. Suddenly, Victor Nikiforov appears before him and along with him is Yuri Plisetsky. Victor, Yuuri, and Yuri take up the challenge on an unprecedented Grand Prix series.
Chat
Poll
Previous Polls
What is your favorite song from YOI?
Trivia
Yuri has held the role of provider for his family ever since he was a rookie skater.
Quotes
"He never fails to surprise me. Ever since I first saw his skating, it's been a never ending chain of surprises."
- Yuuri Katsuki about Victor Nikiforov
Forum
<wikiaforum/>
Twitter
Community content is available under
CC-BY-SA
unless otherwise noted.