YURI!!! on ICE the movie : ICE ADOLESCENCE
 (Japanese: ユーリ!!! on ICE 劇場版 : ICE ADOLESCENCE,
Yūri!!! on Ice Gekijō-ban: Aisu Adoresensu
) is a Japanese sports anime film about figure skating, and is a possible prequel to the 2016 anime television series,
Yuri!!! on Ice
. The movie is stated to release in 2020.
Plot
Characters
Announcement Timeline
At the Yuri!!! on Stage event on 29 April 2017, it was announced that an original movie is in production.
[1]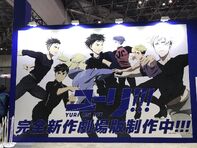 On March 23, 2018, at AnimeJapan 2018, a Yuri!!! on Ice banner boasting the message "Completely new original movie in production!!!" was seen at the Avex booth. [2]
On March 30, 2018, author Mitsurou Kubo updated her Instagram profile information, along with a photo stating that she wanted to make it clear that the movie is indeed currently in production. She also advised followers to wait for any future updates from Yuri!!! on Ice's public relations accounts. [3]
On May 30, 2018, EnsembleFOVE posted pictures of the ensemble, along with the caption "Recording Day!" #EnsembleFOVE"[4]. A video was also uploaded by BREAKOUT_Staff where EnsembleFOVE's conductor Taku Matsushiba revealed that production for the Yuri!!! on Ice movie soundtrack had officially begun.[5]
At the Yuri!!! on CONCERT event on July 1, 2018, the name of the movie was officially announced as "ICE ADOLESCENCE".[6] A short trailer was also released on the movie's official website . It's recently been announced that the movie release has been pushed back on the official website [1].
References
Community content is available under
CC-BY-SA
unless otherwise noted.