Please note that if you do not follow these regulations, you will first be blocked for a minimum of three days. If you continue to vandalize, you may be blocked permanently.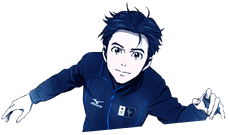 Articles
All edits are appreciated; however, please abide by the following rules.
Do not vandalize the articles.
Only use actual facts, and use references when possible.

*Only pages of canon material may be added.

*Those creating or contributing to "joke" pages or pages unrelated to Yuri! on Ice will be banned indefinitely.

Do not update any character's age past any official and canon information.
When adding images to articles, select the default size.
No spamming, harassment, or offensive behavior.
No offensive articles or images with sexual, vulgar language, or racist remarks.
No advertising.
No adding of random words.
No joke edits.
No edit wars, if there is a disagreement between users talk it out on your message wall

If an edit war continues, the users involved could be blocked, or the page may become protected.
Images
Posting of fan art is prohibited, only official art is allowed.
Post only images that are related to this wiki

Unrelated images may be added to your user page; however, fan art is still prohibited.

Name images with proper titles (including initials of characters or episode numbers, not 12345.jpg)
Make sure there are no watermarks on the images.
Refrain from uploading images that contain subtitles, video controls, etc.
Don't repost gifs or edits from other sites. (e.g. Tumblr, Instagram, Pintrest)
Do not add tags to the photos.

Instead, include the photo in the proper photo gallery.
Blogs and Forums
Blogs and forums are used to express opinions/feelings/etc.
Be considerate of others.
If you disagree with what is being said, do not be rude to any other user.

You may state your disagreements, but please no harassment.
Comments
Comments have the same regulations as blogs and forums, as well as some added ones.
Use default font.
Comment wars should be avoided.

If there is a disagreement, move it to the appropriate forum board.

Keep topics related to the page.
Use the Concerns forum board for any major problems on character pages.
Comments about ships should not be made in the comment section but in the appropriate forum board.
If you see any problems that have not been solved, please notify an admin as soon as possible.