Nikolai "Kolya" Plisetsky (Russian: Николай "Коля" Плисецкий; Japanese: コーリャ・プリセツキー, Kōrya Purisetsukī) is the grandfather of Yuri Plisetsky.
Background
Nikolai has been very invested in Yuri's figure skating since Yuri was a child, attending his competitions in place of his mother. Yuri adores his grandfather deeply, thinking of him when the he needed to understand unconditional love for his short program.[1]
Appearance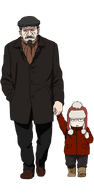 Nikolai has two-toned grey and black hair. He has a moustache and a short beard that are also two-toned. He has wrinkles and a stocky build. Nikolai is always seen wearing a flat beret on his head and wearing warm clothing.
Nikolai stands and walks with a slight hunch due to his weak back.[2]
Personality
Nikolai is a quiet and kind gentleman. He does not speak much, preferring to listen to his grandson talk. He takes up a genuinely loving grandparent role, picking Yuri up from the Sheremetyevo International Airport, making Pirozhki for his grandson, and learns about what Yuri likes. Nikolai makes an effort to attend competitions in Moscow that Yuri competes in to show his support, showing his dedication towards Yuri.
Relationships
Nikolai has been the backbone of Yuri's skating career, always supportive of his grandson and attending competitions in Moscow whenever possible in place of Yuri's mother. Yuri adores his grandfather, never once being rude to the elder, and dedicates his short program to his grandfather. Nikolai loves making Pirozhki for Yuri, knowing his grandson loved eating them. After hearing about Yuri's newfound love for pork cutlet bowl, Nikolai made an effort to combine Yuri's two favourite foods together.
Quotes
"It's a katsudon-Pirozhki! Eat it and do well for your free skate, Yurochka." (to Yuri)
"Yurochka, look how strong you've become." (to himself about Yuri)
References
"Kolya" is the diminutive form of "Nikolai."