Georgi has a cameo along with Mila Babicheva. Both are at the rink in Russia when Yuri yells at Yakov about Victor leaving the country.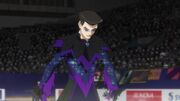 Georgi is fourth to skate his short program among the named characters. His short program is "Carabosse" from "The Sleeping Beauty". It is a dramatic program, further accentuated by his theatric outfit and dark, prominent makeup. During the short program monologue, Georgi imagines himself as the evil witch Carabosse, casting a curse of eternal sleep on Sleeping Beauty, who, in this case, is his ex-girlfriend, Anya. During the program, he becomes emotional and begins to cry, causing Mila and her rinkmate to laugh, although they, along with Yuri, quickly become unsettled by how much he was into his performance. He places second for his short program with a score of 98.17.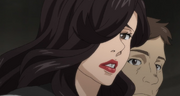 Georgi is second last to skate for the free skating portion of the Cup of China thanks to his placement after the short program. His free skate is "Tales of a Sleeping Prince." In this skate, he portrays the prince, ready to wake up the sleeping princess with a kiss. Anya stands up to leave partway through giving him a thumbs down, disturbing him and causing him to miss a jump right after, although he recovers. Georgi finishes fourth overall with a combined score of 252.44.
Georgi watches Michele's free skate, saying that he can see lost love in his movements.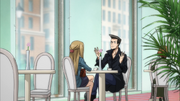 Georgi is briefly shown sitting at a table in a restaurant with another woman, presumably a new love interest.