Skate 5 - Face Beet-Red!! It's the First Competition! The Chugoku, Shikoku, and Kyushu Championship (第5滑走: 顔まっ赤!!初戦だョ!中四国九州選手権大会, Dai go Kassō: Kao maaaka!! Shosen da! chū Shikoku Kyūshū Senshuken taikai) is the fifth episode of Yuri!!! on Ice.
Synopsis
In order to be able to make it into Grand Prix series, Yuuri's first priority is to win the Chugoku, Shikoku, and Kyushu Championship. Yuuri is reminded of his past failures and becomes anxious, but is able to pull off a decent short program. Later on, he encounters the young competitor Minami Kenjirou who had won last year's nationals but still looked up to Yuuri. Yuuri initially does not return the support that Minami shows for him, but after Victor confronts him, Yuuri begins to open up and show support for the younger skater. Despite hitting his head (or to be more specific, smashing his face into the side boards of the rink with the speed of a triple axel and getting a bloody nose) while performing the free program, Yuuri is able to place first overall. Later in a press conference, Yuuri chooses "Love" as his theme for the Grand Prix series.
Summary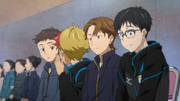 The Chugoku, Shikoku, and Kyushu Championship begin with a drawing that determines the order that the skaters will perform their short program in. To his dismay, Yuuri draws first, yet again, and Minami draws fourth.
While Yuuri skates, he becomes nervous as the audience's response to him is only lukewarm. After he finishes performing Eros, scoring a personal best of 94.36, Victor tells him that he was too preoccupied with perfecting his jumps in the second half of the program, which caused his performance to become sloppy. Victor scolds Yuuri, and advises him to lower the difficulty of the jumps in the free skate so he can perfect his presentation instead of focusing too much on his jumps.
After the conclusion of the short programs, Minami reveals to Yuuri that his short program costume was based off one of Yuuri's old costumes. Yuuri becomes embarrassed and remarks that it was a costume from his 'dark past.' Hearing this, Minami becomes upset and tells Yuuri not to make fun of him admiring and trying to catch up to Yuuri.
Characters in Order of Appearance