Emil Nekola (Japanese: エミル・ネコラ, Emiru Nekora) is a Czech figure skater featured in Yuri!!! on Ice.
Appearance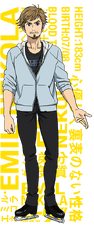 Emil is a six-foot-tall young man with an athletic build. He has shaggy, dark blond hair, blue eyes, a mustache stubble, and a short beard.
Short Program
During his short program, Emil wears a dark costume with a black vest, gray, puffy sleeves, and a black cravat. 
Free Skate
During his free skate, Emil wears a blue one-piece costume with silver, geometric decorations, and a wide blue belt. 
Personality
Emil is a kind, straightforward, honest, and true gentleman. He has a protege-like temperament, so he is easily ordered around, usually by Michele Crispino and he is also very sociable as he often asks Sara Crispino, and sometimes Michele, to go out for dinner or drinks with him.
He is the only one who returns Yuuri Katsuki's hug during Yuuri's brief hugging spree after the Rostelecom Cup free program.
Background
Emil competed at the World Championship in Yoyogi during the previous season where he placed third at Skate Canada International in the current season.
Skills
Jumps
Emil has a great jumping ability and is the only skater other than Seung-gil Lee and Jean-Jacques Leroy to land a quad loop in competition.[1] However, he tends to run out of stamina after pulling them off.[2]
Relationships
Michele is rather wary of Emil trying to get together with Sara Crispino, but the two are good friends. Emil is the only other person besides Sara who refers to Michele as Mickey. They sit together in the audience during the Barcelona GPF.[3] It's been confirmed that they have each other's contact information.[4]
Given Emil's friendship with the elder Crispino twin, he also gets along with Sara where he often tries to ask her to go out for dinner or drinks with him, but Michele always turns these offers down, in the belief he is protecting his sister from Emil.
Programs
The track is the theme of a sci-fi film also called Anastasis.
Etymology
The name Emil means "Excellent" in Latin.
Emil's surname Nekola means "not" (ne) and "instability" (kola) in Czech.
Quotes
Trivia 
References